Product Detail
Product Tags
※Structural feature:
1、Store 200 groups of orders, the man-machine interface, the screen displays information can be found at any time, modify, append, cancel.
2、Germany  KEB servo motor drive controller, high-performance synchronous servo motor drive.
3、Cutting Machine adopts inlaid front steel blade structure, hardened gear grinding backlash-free transmission, high precision and long life.
4、Host wall of gray cast iron, rigidity, vibration resistance.
5、stacking adopt gantry platform lifting, Reach a certain number of right-angle transverse,Three sections of the paper,Some hair design paper roll straight bend output,Second overlapping fixed-length buffer,three part points Pneumatic separate ,Accelerated export cardboard。Improve working efficiency. The maximum length of stacked is 1.6 meters .This machine is suitable for efficient production color printing business。
6、Full servo motor control, change order fast, for a single time 1-3 seconds.
7、Using thin tungsten alloy steel knife,blade sharp,the using life is more than 8000000 meters.
8、Brothers for computer-controlled, automatic or manual knife sharpener can be divided trimming knife edge, increase productivity.
9、Imported synchronous drive system, precision accurate, long life, low operating noise.
10、From high-quality imported industrial computers and high-performance programmable controller configuration, lower computer control system.
※ Technical parameters:
1、The maximum working width:1400mm
2、operation direction:left or right(Determined in accordance with customer plant)
3、The maximum mechanical speed:150m/min
4、Mechanical configuration:Computer spiral knife crosscutting
5、Cutting length:300-1800mm
6、Minimum slitting width:180mm
7、Precision Cutter:±1mm(Uniform) ±1.5mm(Non-uniform)
8、5 groups ¢200blades
※Roller diameter parameters:

1、Cross on the knife shaft diameter:¢200mm Balancing done deal
2、Cross under the knife shaft diameter:¢200mm Balancing done deal
3、Under the pull roller diameter:¢156mm Balancing done deal
Note: After all have been grinding rollers, hard chrome plated at (upper and lower arbor exception) processing.
※Power motors and electrical parameters:
1、Main drive motor power:12.5KW  Full AC synchronous servo motors
2、Pull the paper motor power:3KW(Frequency Control)
3、Feed motor power:1.5KW(Frequency Control)
4、Transverse motor power:0.75KW(Frequency Control)
※Mainly purchased parts, raw materials and origin: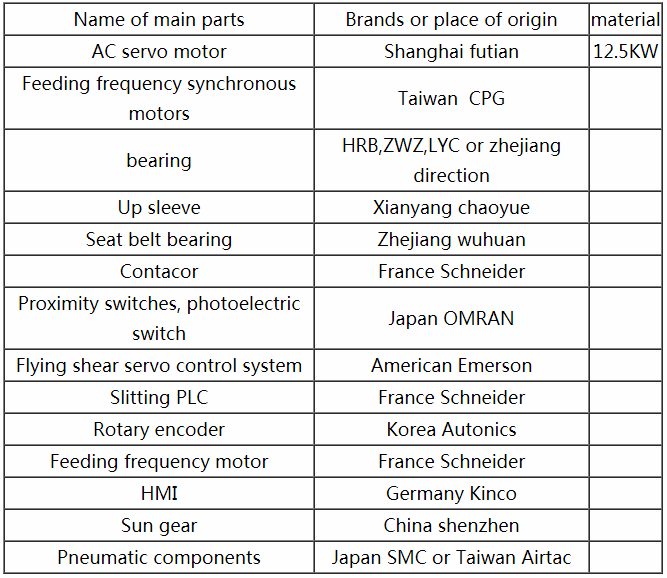 ---
Previous:
Stacker DM-DL
Next:
Glue machine GM-30
---
Write your message here and send it to us